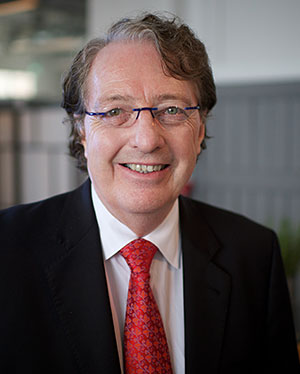 Dr. Durie founded and now serves as Chairman of the International Myeloma Foundation and serves on its Scientific Advisory Board. Additionally, he is Chairman of the IMF's International Myeloma Working Group, a consortium of nearly 200 myeloma experts from around the world. Dr. Durie also leads the IMF's Black Swan Research Initiative®.
Dr. Durie is the Director of Myeloma Research for the Academic Myeloma Consortium (AMyC ). He is an attending physician at Cedars-Sinai Medical Center in Los Angeles, California, with offices located in the Outpatient Cancer Center at the Samuel Oschin Comprehensive Cancer Institute.
Along with Dr. Sydney Salmon, Dr. Durie co-created the Durie/Salmon Staging System, which is used worldwide for evaluating patients with myeloma. He has written more than 400 research papers, sixteen book chapters, and five books. Dr. Durie is also an international patent holder for scintillation autoradiography.
Dr. Durie is the recipient of numerous honors and awards for excellence. He is a Leukemia Society of America Scholar and a US Hematologic Research Foundation Annual Awardee. Dr. Durie received the 2006 Robert A. Kyle Lifetime Achievement Award, which honors a physician who most exemplifies singular dedication to and compassion for myeloma patients in the search for the best treatment for myeloma. In 2009, Dr. Durie received the prestigious Waldenström's Award in recognition of his many contributions to the field of multiple myeloma. Dr. Durie was awarded the 2011 Joseph Michaeli Award from Weill Cornell Comprehensive Cancer Center for outstanding contributions to treatment of myeloma. In 2014, he was recognized with Mayo Clinic's Distinguished Alumni Award for his exceptional contributions to the field of myeloma.
Previously, Dr. Durie served as a professor at the University of Arizona College of Medicine and the Charing Cross and Westminster School of Medicine at the University of London. He received his medical degree from the University of Edinburgh Medical School, Scotland. Dr. Durie completed residencies and fellowships at Mayo Clinic and the University of Minnesota. He is board certified by the American Board of Internal Medicine with subspecialties in both medical oncology and hematology.