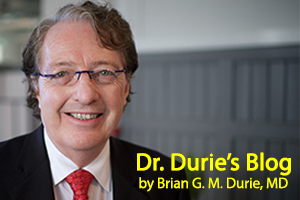 Cancer drug costs are high. In an effort to rationalize the use of expensive drugs, the American Society of Clinical Oncology (ASCO) has proposed what they call a "Value Framework." This framework uses a complex points system (See Fig 1. of article).
It has taken some time to understand how this can be applied to myeloma. My assessment is that the "Value Framework" does not work well for myeloma and may limit access to needed drugs for myeloma patients. The method for allocation of the points is problematic.
My concerns are as follows:
1.  Clinical Benefit (80 points). Major priority is given to overall survival (OS), which is excellent, but rarely the basis for drug approval in myeloma. Only one drug (bortezomib [Velcade®]) since 2002 has been approved based on OS. In addition, OS is no longer a reliable endpoint in myeloma because of access to many new agents at relapse. Thus, progression-free survival (PFS)—both first remission (PFS1) and second remission (PFS2)—are much more useful.
A key point is that the methodology used by ASCO requires a "comparator" drug in clinical trials. However, some myeloma drugs such as carfilzomib (Kyprolis®) were FDA approved with a single arm phase II trial without a comparator for either efficacy or toxicities. It should also be noted that the relative negative impact of diverse toxicities is very hard to assess.
2.  Bonus points (30 points). These points are for palliation (symptom improvement) and treatment-free interval (time off treatment). This just does not work for myeloma. Many patients at early relapse are without any symptoms. Thus, an excellent therapy could get ZERO bonus points in the "Value Framework"!
The biggest problem with this framework is the focus on costs, including the patient's co-pay. The reality is that despite very high drug costs, the myeloma patient co-pay is often very low, even as low as $25 to $50. As a result, the concern about costs is not for the patient directly, but for the costs borne by the US health care system as a whole. Considered in this fashion, the total costs—including diagnostics and supportive care—must be included, as well as the long-term benefits of early intervention.
The complexities of healthcare costs are questions better aimed at health care specialists, including health economists, insurance and managed care specialists and the like, NOT patients and hematologists/oncologists involved with day-to-day care. In addition, it should be noted that the "Value Framework" proposed by ASCO is a cumbersome tool, very difficult and time-consuming for the average practitioner or patient to evaluate and understand or accept.
So, what is the bottom line?
The ASCO system is not good for myeloma.
 
Using the ASCO system could limit access to needed drugs for patients with myeloma.
 
Each of the elements of the ASCO scoring system is intrinsically flawed for use in myeloma. The clinical benefit score should focus more on PFS, and bonus points should be eliminated. Total costs need to be considered versus raw drug costs.
 
The approach for myeloma needs to be considered by, for example, the IMF International Myeloma Working Group (IMWG). Costs were discussed at the recent IMWG summit in Vienna and will be further discussed at the upcoming International Myeloma Workshop (IMW) meeting and at the time of the American Society of Hematology (ASH) annual meeting in December. Specific recommendations will be made.
 
As newer therapies enter the marketplace as generics, such as generic bortezomib (Velcade®), recently available in Europe, the longer-term cost structure will inevitably change. Initial, post-FDA approval costs need to be balanced realistically against development costs and the ongoing need for innovation. When a drug meets the criteria for FDA approval, patient access in some fashion is appropriate. Managing costs in the 5-10 year post-approval period is the major challenge.
Thus there are many aspects to consider. Moving ahead, the IMF, the IMWG, and other groups will be evaluating costs using alternate approaches.  Stay tuned as further developments emerge!
Dr. Durie sincerely appreciates and reads all comments left here. However, he cannot answer specific medical questions and encourages readers to contact the trained IMF InfoLine staff instead. Specific medical questions posted here will be forwarded to the IMF InfoLine. Questions sent to the InfoLine are answered with input from Dr. Durie and/or other scientific advisors and IMWG members as appropriate, but will not be posted here. To contact the IMF InfoLine, call 800-452-CURE, toll-free in the US and Canada, or send an email to [email protected]. InfoLine hours are 9 am to 4 pm PT. Thank you.