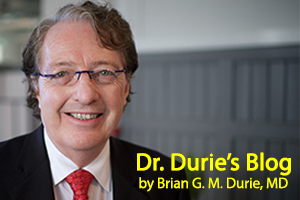 The major article today in the New England Journal of Medicine is a report  of a study with lead author, Dr. Henk Lokhorst (from VU University Medical center in Amsterdam, Netherlands) which summarizes the phase I – II trials results in 72 patients treated with daratumumab, anti-CD38 therapy.
The report has generated considerable excitement, with daratumumab being described in the media as a "blockbuster" with a high likelihood for early approval by the US Food & Drug Administration (FDA), which has already given daratumumab "breakthrough" status. The reason for this intensified enthusiasm is that the response rate is now 36% in patients receiving the 16mg/kg dose (higher versus 8 mg/kg dose) with 65% of responders still in remission after one year. This compares very favorably with, for example, carfilzomib (Kyprolis®) results at the time of approval, which had a response rate (overall response rate [ORR] or ≥ 50% improvement) of 23% and an average remission of 7.8 months. Also of note were two patients with complete remissions (CR) and two patients with very good partial remissions (VGPR), despite significant prior therapy.
The response rate was 23% in very heavily pre-treated patients and 56% for patients who had received up to three prior therapies. Toxicities, which have been an issue for recent new agents evaluated by the FDA, were very acceptable. Reactions related to the infusion of this monoclonal antibody were mostly lower grade (1 and 2). The infusions do take a minimum of 3 or 4 hours. After the first (very careful) infusions, the average infusion time was 3.3 hours.
The impressive results bode well for early FDA approval, which is fantastic news for myeloma patients. Although daratumumab is currently available in trials and a recently started "access program," true access will occur with full commercial approval. The date of potential approval is the focus of much speculation, but will most likely be in the next 2-4 months.
So stay tuned for updates about this very good news!
Dr. Durie sincerely appreciates and reads all comments left here. However, he cannot answer specific medical questions and encourages readers to contact the trained IMF InfoLine staff instead. Specific medical questions posted here will be forwarded to the IMF InfoLine. Questions sent to the InfoLine are answered with input from Dr. Durie and/or other scientific advisors and IMWG members as appropriate, but will not be posted here. To contact the IMF InfoLine, call 800-452-CURE, toll-free in the US and Canada, or send an email to [email protected]. InfoLine hours are 9 am to 4 pm PT. Thank you.